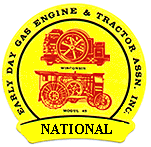 Branch 245 Show July 8th and 9th
FREE! That is a good price. Join us for this years show on the 8th and 9th of July. We are located on E Johns Road, Shelton. Gates open at 9Am on Saturday. Worth much more than the price of admission.
---
50th Anniversary Corey's Days on the Farm
On Monday and Tuesday after Mother's Day, May 15th and 16th we celbrated the 50th anniversary of Corey Days on The Farm at the Kitsap County Fairgrounds. Special thanks to OPAT&EA for letting us lend a hand, Kitsap County Parks for the facilities, and all the volunteers who brought horses and ponies for rides, animals for the petting zoo, the kitchen staff, photographers booth staff, shirts and hats and much more. John Graham organized four wagons and tractors for the event and we carried a total of 2,471 "bucaroos" around the Kitsap County Farigrounds. The continuing theme of rain did not deter anyone and held off on Monday but returned on Tuesday. US Coast Guard volunteers assisted on Tuesday with the wheel chair ramp, as well as loading and unloading riders. Great event, well done to all. For EDGE&TA: John Graham, Frank Stricklin, Pat Stricklin, Mike Stricklin, Randy King. For OPAT&EA: Pete and Lynn Britton, Buck Snyder, Bill Easterly, Rich and Mary Bienek, Howard Lindsay, and Rick Leenstra
Swap-a-looza 29 April
Lots of treasures, rust, grease and plants found their way to new homes from the clubs April swapmeet. Many buyers and many sellers swapped tall tales in addition to dickering over items. Buyers were in good supply as well as sellers making it a great day for all. The weather decided to play nice and rain held off all day Saturday. Just to remind us how wet this year has been, it started to fall just after we had collapsed the last of the pop-ups and got them put away. The new building is perfect, and a real asset for the showgrounds. Located next to the stand of Coastal Pines it fits in with the landscape. It will shelter many functions and create fond memories over the coming years. Special thanks to all who helped put it together and dress it up with board and bat siding.
March Meeting
Another outstanding venue for our quarterly meeting. Thank you to our officers and board for putting forth the effort in finding wonderful venues.
Branch 245 held the March meeting and potluck at Kips Garage, in Olympia. To say our host, Craig Kinnaman, is a wild man would be an understatement. He has a lot of energy and has directed it toward restoration and repurposing many items from the late 1800's through 1930. Loving care and craftsmanship is visible everywhere you look. His collection is eclectic, and runs from narrow guage railroad items, old trucks, old toys, old engines, pumps and signs to anything else that he might fancy.
Outside the new building, many projects are lined up waiting their turn for renewal. Steam engines (one Shay, and one Donkey) and narrow guage trucks, tracks and rolling stock are in the que.
The most important feature of this outfit is you.