2017 Show Memories
All photos courtesy John Graham.
Christmas Party
October Swap Meet
Thanks to all who participated, buyers are not happy without sellers, and vice versa. We had a good turnout of both at our October Swap Meet.
October Meeting
Thank you to Robin and Mike King for hosting us at their "Yellow Barn" wedding venue in Buckley. This milking parlor and barn was built around 1950 and lovingly remodeled by friends and family. The venue has lots of parking and charm for weddings and other special events and occasions. Several members brought engines and tractors to show and items to swap and sell. There was more food than we could eat, but we tried anyway. That Blackberry Cobbler went down easy! No one took a knee during the flag salute, and the winner of the 50/50 raffle donated it back to the club. Pete Peterson's number was drawn second and he chose the red puzzle. No surprise there. Good to see John Corbin out and about. Thank you to our board and members.
Jacob F., age 7 helped bring a McCormick Deering orchard tractor for the gas up. That tractor is way too nice to work in an orchard, and the paint wasn't that nice when it left the factory. Jacob told me it was a 1948 Model 0-6. The O-6 was the orchard version of the OS-6. It weighs 4600 lbs and the International Model C-248 engine developed 37 hp on the belt and 32 at the drawbar.
Eddie Hadaller brought two nice tractors, both built in Canada. A Cockshutt 35 Black Hawk (1956) 43 hp and a Gambles, Farmcrest Model 30. Cockshutt built the Farmcrest tractor for sale in the US through Gambles retail chain stores. It has a 28 hp Buda engine. Neil Andrews brought a nice running Linderman crawler. He fired it up and took it for a spin.
Not to be outdone, Mike broke out a 1915 Model 1020 Case Crossmotor and Isaac Christensen took it for a spin. It sounds like it could still do a long days work if needed. After a few hiccups, a tweak or two from Mike, and given a little time to warm up the Mogul's exhaust created a soothing rhythm.
Hope to see a lot of you on the 28th at the swap meet.
2017 Whaling Days Parade
Branch 245 pulled a rubber duck for the Silverdale Rotary and Freinds of Newberry Hill Heritage Park during the Whaling Days Grand Parade. The entry took 3rd place in the vehicle catagory.
2017 Crosby Days
This years mayor, Vern Christopher. Vern and Soo lead the procession from Camp Union to the community center. Great laid back event. Branch 245 was well represented by Randy, John G., Frank, John N., Nick and Judy.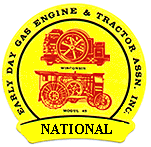 Branch 245 Show July 8th and 9th
FREE! That is a good price. Join us for this years show on the 8th and 9th of July. We are located on E Johns Road, Shelton. Gates open at 9Am on Saturday. Worth much more than the price of admission.
---
50th Anniversary Corey's Days on the Farm
On Monday and Tuesday after Mother's Day, May 15th and 16th we celbrated the 50th anniversary of Corey Days on The Farm at the Kitsap County Fairgrounds. Special thanks to OPAT&EA for letting us lend a hand, Kitsap County Parks for the facilities, and all the volunteers who brought horses and ponies for rides, animals for the petting zoo, the kitchen staff, photographers booth staff, shirts and hats and much more. John Graham organized four wagons and tractors for the event and we carried a total of 2,471 "bucaroos" around the Kitsap County Farigrounds. The continuing theme of rain did not deter anyone and held off on Monday but returned on Tuesday. US Coast Guard volunteers assisted on Tuesday with the wheel chair ramp, as well as loading and unloading riders. Great event, well done to all. For EDGE&TA: John Graham, Frank Stricklin, Pat Stricklin, Mike Stricklin, Randy King. For OPAT&EA: Pete and Lynn Britton, Buck Snyder, Bill Easterly, Rich and Mary Bienek, Howard Lindsay, and Rick Leenstra
Swap-a-looza 29 April
Lots of treasures, rust, grease and plants found their way to new homes from the clubs April swapmeet. Many buyers and many sellers swapped tall tales in addition to dickering over items. Buyers were in good supply as well as sellers making it a great day for all. The weather decided to play nice and rain held off all day Saturday. Just to remind us how wet this year has been, it started to fall just after we had collapsed the last of the pop-ups and got them put away. The new building is perfect, and a real asset for the showgrounds. Located next to the stand of Coastal Pines it fits in with the landscape. It will shelter many functions and create fond memories over the coming years. Special thanks to all who helped put it together and dress it up with board and bat siding.
March Meeting
Another outstanding venue for our quarterly meeting. Thank you to our officers and board for putting forth the effort in finding wonderful venues.
Branch 245 held the March meeting and potluck at Kips Garage, in Olympia. To say our host, Craig Kinnaman, is a wild man would be an understatement. He has a lot of energy and has directed it toward restoration and repurposing many items from the late 1800's through 1930. Loving care and craftsmanship is visible everywhere you look. His collection is eclectic, and runs from narrow guage railroad items, old trucks, old toys, old engines, pumps and signs to anything else that he might fancy.
Outside the new building, many projects are lined up waiting their turn for renewal. Steam engines (one Shay, and one Donkey) and narrow guage trucks, tracks and rolling stock are in the que.
Branch 245 Christmas Party
I do not know if I believe him, but I can't deny that was some fine turkey. John Neitzel says he cooked it and I don't care who did I'm just glad they did. It was like second Thanksgiving at PUD #3 with lots of good food, friends and deserts. The club raffle was converted to an auction and all proceeds went to the food bank. About $150 in cash and several boxes of canned goods were collected.
2016 Christmas Town USA Christmas Parade
Branch 245 participated in the Kristmas Town USA Parade in Shelton on the 3rd of December. This is a great small town USA parade with lots of kids, dogs, scouts, soldiers, horses, flags in the parade, and lots of young spectators along the parade route. I am hoping next year we can increase club participation in the parade.
62nd Tree Lighting
Branch 245 joined Olympic Pennisula Antigue Tractor and Engine Association to help with the 62nd annual Silverdale Tree Lighting Ceremony. John pulled for Olympic and Frank pulled for Branch 245. Member Kent Bailey came up from Baker City Oregon to act as footman on Franks wagon. Over 200 riders were transported in Old Town Silverdale between the library, bonfire and back to the hotel where Santa was scheduled to arrive after dark. The Silverdale Dandy Lions sponsor this event each year.
October Meeting
On the road again, this time to Centralia Washington for the October meeting. The meeting was held in the historic train depot on Railroad Avenue in downtown Centralia. The depot was built in 1912, and is still in use today. All woodwork inside, and there is a lot of woodwork, is done in quarter sawn oak. Centralia was an important railroad terminal on the north south line to Seattle. The first Depot was built in 1880 by the Northern Pacific Railroad and sat on the corner of Main and Railroad Avenues. The small wood framed building was followed by a larger wood building in 1905, known locally as "Noah's Ark" due to its architectural design. The Depot serves as a reminder of the boom Centralia experienced during the early 1900's. Between 1900 and 1914 the population increased by almost 400%. By 1914, 44 passenger trains and 17 freight trains passed through Centralia every day, and passengers were accommodated by 14 bustling hotels along Tower Avenue. The presence of the Depot and the traffic it served was the cornerstone of the downtown business district, just a block away. Thanks to the board for setting up these wonderful venues.
After the show John and Frank took a side trip out to the steam train depot near the military equipment museum. The train was not running but volunteers were hard at work putting up lights on the deck for this coming weekends 3 Pumpkin Runs on Saturday. We were allowed to go into the train shed and look at the old iron stored there. There are two Baldwin engines here, numbers 15 and 23. The 15 was working for the Cowlitz, Chehalis and Cascade Railroad pulling logs to the sawmills up until the mid 1950s. Today she takes passengers through the Chehalis River Valley. The last Murder Mystery Dinner is October 30th. The Baldwin 23 is at parade rest and currently being restored. If you were at last Octobers meeting you will remember the Baldwin 45 in Hoquiam at the museum. For fares and schedules 360-748-9593
Great Show
Hats off to our hosts, Dale and April. Thank you to the board and to all the club members that each contributed a small or large part in this production. The 2016 Show is in the books, and the show grounds are slowly getting back to normal. As of Monday morning, members were still packing up and hauling equipment and campers home, tired but happy to have been a part of this event. For more pictures go the EVENTS page for a look at a short slide show.
Swap Meet
Saturdays swap meet was well attended. It turned out to be a perfect day to hunt for treasures on the show grounds. There were lots of buyers and lots of sellers. Thanks to all who participated, making this a success. Don't forget our big show is coming in July! Hope to see you there.
Special Thanks
For more than 40 years of service to the club, John and Cindy Neitzel were given a lifetime membership at the April meeting. Club members, by unanimous vote, approved the motion and April tore up the dues check that Cindy had written before the meeting. Work party on the show grounds continued after the meeting. Members met and picked up "Port Orchard Potatoes", cleaned up the Con-Ex box, removed a fence, and assembled a tent frame. It took a blacksmith, computer guy, a contractor and April to sort out all the puzzle pieces for the tent frame. On the third reassembly success!
February Work Party
We plowed, disked, chiseled, harrowed, raked, bucked and burned whipping the showgrounds into shape for the coming years events. This was the first DRY work party of the year, and a glorious day to be outside. The event was well attended making the work a lot easier. If you were unable to attend we have another work party coming up on March 19th and 20th. Club officers and members provided a large pot of coffee and some low cal donuts for breakfast. Cookies and brownies were up for grabs at the shelter as well. Dominos delivered pizza at lunch time.
January Meeting
The board met early, then the general membership meeting which was followed by a great potluck lunch that tied things together nicely. 2016 Officers were elected by proclamation with Judy Huff agreeing to take over the secretarial duties. Dues were raised to a modest $25.00 Member (club and national) and a $15.00 (club only) Associate Membership by a unanimous vote of the members present. Official minutes will be presented at the next meeting. After lunch, we headed out to John and Cindy Neitzel's spread for a look at some old engines and tractors. It was billed as a peek at their "iron pile", but everything was neatly arranged and I think John must have even cleaned his machine shop before we arrived. They keep a neat pile, as things were quite organized and we got to walk through several storage sheds and barns looking at a lot of nice equipment from days gone by.
Halloween Meeting
There were lots of friendly ghosts at our October 31st meeting. These were not your traditional ghosts, but were relics of days gone by. Our officers set up a fantastic meeting venue at the Polson Museum in Hoquiam, followed by a tour of Ken Christensen's shops in downtown Aberdeen. We took a look at a steam locomotive (Baldwin #45) the museum is currently restoring and got a private tour of projects to be restored in the future. After the meeting we drove to Aberdeen and took a long look at all the old iron Ken Christensen has collected over the past 40 or so years. All I can say is wow, and thanks to our officers and board of directors for setting up this outing.
Whaling Days Parade
Steady rain thinned out the crowds, but those that remained enjoyed the show. The rain shorted out the electronics inside the old chem tank and a quick run to Target to buy a replacement got things going just in time. EDGE&TA Branch 245 members pulled for the Newberry Hill Heritage Park stewardship group with Kitsap County Parks volunteers. The volunteers handed out maps along the route.
Crosby Days, August 8th-9th
Several club members participated in this annual event, and as usual it was laid back and a lot of fun. We sat in the shade and solved most of the worlds problems, but can't remember how we did it. We missed Van.