Classified Ads
1921 1-1/2 HP Economy Model E, original condition. $950 1925 1-1/2 HP John Deere Model E, sleeved. Replica cart. $1,100 1919 3 HP Fairbanks Morse Model Z, 1/8" thick fuel tank. $750 1919 6 HP Fairbanks Morse Model Z. 1/8" thick fuel tank. $575 1913 2 HP Economy CA, custom cart, new fuel tank. $1,500 1960's Garrett Brush Fan B-2, 3HP Briggs. $350 Sears & Roebuck Well Pump, belted to the 3 HP Fairbanks, model 259311, $275. Wisconsin powered Hardie Piston Pump. $425 Twin Hog Oiler. $125 All are complete and run. Younger the buyer, lower the price. Mike Craig (253) 606-4549 Edgewood, WA
Nice example of Industrial Art Restored hit miss engine $400 253-475-0647
2½hp Waterloo boy 1½hp McCormick Deering Fully refurbished and painted priced to move for collector,museum,or resale ! (503) 939-3604
Rivet Press For riveting clutch linings, brakes, etc. Works fine and comes with BOXES of rivets. $500. 503-867-4191
Farm all and John Deere tractors for sale in Shelton Dale (360) 426-9299
1 1/2 Stover hp K engine for sale on a great cart doesn't take up much space and runs fine price is firm $750 503-317-1019
Antique Chuckwagon 1800's Out of Montana All original Great condition Stored in barn for years $8,900 OTHER ITEMS FOR SALE: (Pictures available by request) 1.) Freight/Farm wagon 1800's, out of Montana, all original, great condition. stored in barn. $8,500 2.) Freight/Farm wagon 1800's, all original including harness, great condition, stored in barn, $7,500 stored in Redmond. Undercover 3.)1928 McCormick Deering Tractor, have had it running, comes with original steel wheels and the rubber tire axle and wheels conversion. Out of Montana from original owner always kept it in a barn. $5,300 with everything 4.)Single horse fancy 4-wheel buggy. 1800's, out of Montana, well stored. Great condition. $1,100 5.) late 1800's horse drawn sickle mower $350 6.)Horse drawn water tank, steel wheels, and undercarriage (wood needs to be replaced) used to fill steam thrashers in the field and supply coal/firewood. Unique and rare $950 (425) 417-6402
**There's also a Steam Tractor on Craigslist / Spokane for sale with an email only – good luck!
Various Engines for Sale 1921 1-1/2 HP Economy Model E, original condition. $950 1925 1-1/2 HP John Deere Model E, sleeved. Replica cart. $1,100 1919 3 HP Fairbanks Morse Model Z, 1/8" thick fuel tank. $750 1919 6 HP Fairbanks Morse Model Z. 1/8" thick fuel tank. $575 1913 2 HP Economy CA, custom cart, new fuel tank. $1,500 1960's Garrett Brush Fan B-2, 3HP Briggs. $350 Sears & Roebuck Well Pump, belted to the 3 HP Fairbanks, model 259311, $275. Wisconsin powered Hardie Piston Pump. $425- Twin Hog Oiler. $125- All are complete and run. Younger the buyer, lower the price. Mike Craig (253) 606-4549 for info and photos. Edgewood, WA
Horse drawn equipment Original IH Chuck Wagon $8900 1800's Freight/Farm Wagon $7500 1928 McCormick Deering Tractor $5300 4 Wheel Fancy Single Horse Buggy $1100 Late 1800's Sickle Mower $350 Horse Drawn Water Tank used to fill steam thrashers, needs new wood $950 Tim (425) 417-6402
Gravely D, restored $2000 obo Ken 503-286-2888 Farmall Super A great shape, shows well starts and runs great, good tires, battery. $3000 obo Steve Lynden, WA
R&V vertical scale model engine $2200 Jeff 360-540-9545 Black Diamond, WA
Steel Cart Wheels $35 208-457-1355 Post Falls, Id
Estate Sale in Poulsbo on old farmstead! John Deere 555 w/multi bucket, another JD dozer also available. Logging Arch, Well drilling rig, boat and miscellaneous. Antique cars and parts. Ford Farm Tractors available Ford 9N with belly mount sickle mower, Ford 8N with loader, Ford 800 selecto speed, Ford 9N with loader and 3 pt back blade. Ford 8N & 9N parts tractors, no grill; ford 8n parts tractor with modern loader; Ford 8N with Sherman (has jd back blade on it that is nfs), used recently tires good. Call for viewing and sale info (PHOTO in OCt 21 newsletter) (360) 204-0101 juliej2424@comcast.net
Farm Tractors available in Shelton, Wa OS4 doesn't have all the skirting, WD6, two Farmall Cubs, Allis CA, John Deere A parts tractor – a complete list will be available at the swap
Bill Dalton / club member has this for sale. Runs, no brakes. 360-561-8092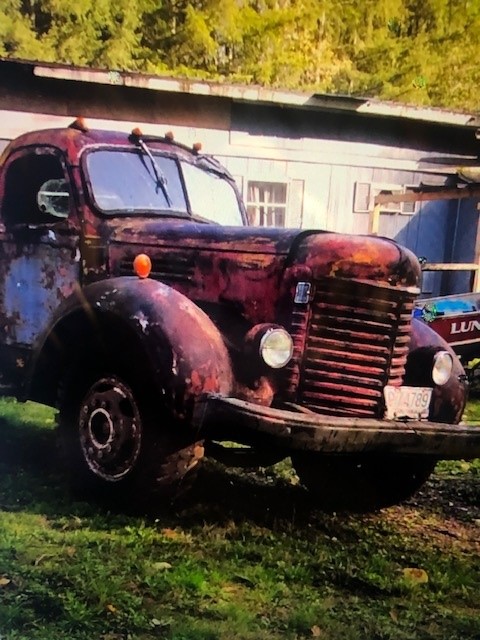 1941 KB8 Rusty, Runs, No Brakes Bill Dalton (360) 561-8091 Olympia
Wanted: Ford NAA rear end or whole dead tractor if it's cheap. Eric (360) 490-6091
Cretor's Popcorn Wagon Steam Engine $2300 Dave (425) 503-3180 North Bend, WA
Case tractor with field mower, drag $2750 on Camano Is. Ron (425) 356-9086
Gravely Garden Tractor Implements for sale Tiller, Chipper/shredder, chain gards for 30 inch brush mower, wheel barrow, rotary plows, snow blade and tractors for sale call (503) 286-2888
Check out this page! Kingagmuseum.com/for-sale/ Or call Dave King (360) 701-7525 for a current list of sale items.
Carrol Pederson (253) 862-2052 Offering some very nice model Engines for Sale Plus a Farmall Cub Tractor with attachments Please call for details
---
Miscellaneous Yard Art and Cool Items Six Speed Special, 1925 Chevy Cabriolet And other rusty stuff (360) 490-8441 Call for info and owner's phone number.
---
Antique, rare, Massey Harris Tractor, with loader. Has rear pto hydraulic system to run loader. $1500, OBO, Call me at 206-697-2946
---
Minneapolis Moline Pedal Tractor Needs steering wheel Russ (360) 502-1992
---
Antique Tractors, trucks been sitting need tlc make offer Joyce, Wa Doug text (360) 912-2782
---
For Sale antique john deere horse drawn cultivator $500 for more info call 541 883 7027
---
Antique Tractor spoked Wheels 2ft x 6" $140 Pair Call/Text/Email call James 503-502-9620
---
Late 30s Crawler Tractor. Last started a year ago and ran fine. This would be a great example to restore or put back to work. 3000. (530) 503-9788
---
For Sale beautiful antique treadle Singer Sewing machine. Must see to appreciate Please call 541-281-4061.
---
Antique Cletrac crawler tractors. Have Cletracs (1) model DD with stock Hercules DRXB diesel (1) model DD with ACHD11 engine (1) model BD with ACHD6E engine - all ran fine when parked 509-291-3311 or 509-599-3661
---
1946 John Deere L.A. tractor. Please call 208-582-4086
---
Giant 5ft Diameter Tractor Wheels I believe they are off a steam Each wheel weighs about 350lbs $800 firm Call/Text/Email James 503-502-9620
---
Good Condition Pull Combine $500 Please contact Mitch at (509) 592-5448
---
Jensen model steam engine $125 Joel (509) 467-4363
---
Antique Hand Crank Single Coffee Grinder Mill $75 (360) 263-8966
---
Antique hand pulled milk can cart $415 Call or Text 503- 339-6230
---
For Sale antique Diamond brand Feed Grinder, originally sold by Mitchell Lewis & Staver, Portland OR. Awesome display piece or use with tractor or antique engine to demonstrate/ or use it as originally intended. $295 Bruce (509) 961-8393
---
Aermotor 8 cycle hit/miss waterworks display. Runs real well includes cart $1250 or best offer. No texting please Max, 503 705 5868
---
1940 SHAW TRACTOR $500.00 208 - 623-3301
---
JD LU power unit This engine has been sitting a while, good sheet metal, complete less carb.pto on back Ben (503) 320-3044
---
Antique Corn Sheller, great rustic patina! Old and heavy nice yard art or repair. Call Angie (360) 791-3389
---
Oliver 1550 tractor that needs some work. comes with a backhoe and front loader.Price $1000.00 and it is in Soap Lake call 509-760-0060 or Ray 425-679-1433.
---
REO lawn mower, ride on type needs engine work It $250 Dale (360) 426-9299
---
Ford 8N tractor with great tires, good sheet metal. Ran when parked. $2200 (360) 490-8441
---
Vintage antique solid steel 29 1/4 $75 located at Jasons Jewelry And More antique store in Scappoose Or. 33559 N. East Prairie St Open Mon-Sat 11 to 5
---
871 Ford Power Master. Doesn't run, $895 Dallas, Or. Paul 503-871-7977
---
Sanders Plow Company Disc Plow located in Colville, WA $80 1-970-261-0044
---
Model WEHR One man grader. 1926 Fordson engine runs nice and smooth. 10ft blade, 20 ft overall length. 88" wide at rear wheels about 9000lbs. Call Buck Snyder 360-377-5111 for more information.
---
Modified mid-century Gibson.. Fenders added, Steering gear added, rear wheelbase widened, Motor is a V2 w/elec starter.. Runs, but carb float stuck.. Make offer... Also a Bolens 32" PTO driven rototiller attachment... Make offer... Jack 360 722 9778
---