245 to Host 2019 Regionals!
Mark your calendars July 12,13 and 14th 2019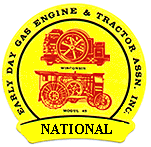 We are honored to host the regionals, and hope all of you are up to the challenges of putting on a great show. If everyone does a little, a lot will get done. This topic will be at the top of our upcoming meeting. Hope to see a lot of you there.
Branch 245 Show Wrapup
All photos courtesy of John Graham. If you missed this one, you missed a lot of great engines, tractors, displays and activities. Thank you to all who together made this show one to remember. It takes a lot of work, but with enough support and members sharing the load it doesn't overload anyone. Thanks to our board officers and members. Now, I need a nap!
The most important feature of this outfit is you.